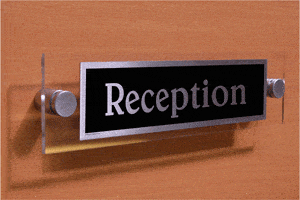 Create a Suitable Reception Area for Your Business
Your reception area is often the first chance people get to judge your business, so it's very important to make great impression. Whether someone is visiting your building for the first time or the hundredth, they should always feel welcome.
How customers are treated and how they see your business reflected in this small area can sometimes determine whether or not they do business with you at all. Making sure you get it right is essential for good business.
It goes without saying that it should be comfortable, clean, professional, and inviting but there's so much more you can do to ensure their first experience is a positive one.
So ask yourself a few simple questions before you open the doors of your business to the public.
What is the Reception Area for?
Depending on the sort of business you run, your reception area may be useful for more than simply welcoming clients. For example, it might be the perfect place to display your stock and draw the attention of customers to things you particularly want to promote. Consider investing in good shelving and/or display cabinets and place them at strategic points around the room; it can make all the difference in ensuring your products are shown to the best advantage.
Depending on the business sector, you can also include quirky items to match your business theme – elegant china and glassware for hospitality, an old typewriter for a publishing firm, etc. Remember to display only what is needed in this area, however, and keep the clutter out of sight.
How do we Greet our Customers?
It's important that customers are greeted warmly when they first arrive, so it's a good idea to have a member of staff on hand to welcome them. If you have someone seated permanently in the reception area for this purpose, make sure their desk is always kept tidy and free of clutter – this will tell people a great deal about your standards and how you do business. A shabby, untidy desk will never create the right impression.
Receptions can be busy places, and making sure they are kept free of dirty cups, old magazines and general litter can be time consuming, but will reap rewards in the long run.
Are they sitting Comfortably?
Unfortunately, we sometimes have to keep clients waiting. Making sure they feel relaxed and comfortable while they are in reception is vital, so you should put some thought into providing the right sort of seating. Sort furnishings should be easy to sit down on and, more importantly perhaps, get out of. A chair may look fantastic, but if your customer is going to struggle to rise from it when you greet them, they will feel uncomfortable and this could set the wrong tone for your meeting from the start.
It's also important to ensure there is sufficient seating to accommodate everybody; no one wants to be the one left standing.
To prevent the reception looking shabby, it's wise to choose hard-wearing or easy to clean fabrics. Choosing a cream sofa might seem like a good idea initially, but it will soon look dirty and you can guarantee it won't be long before someone manages to spill coffee all over it.
A coat stand is also a good idea; having to sit with a coat on your lap or holding a wet umbrella is not a good way to start a meeting.
How Do You Look?
As first impressions are so important, the layout of your reception area is something you'll want to think about carefully. Furniture placement, decorations and space considerations all need to be a part of the design so that office visitors get a positive impression the minute they step through the door.
Keeping the overall look of your reception area simple is essential. It should be clean, free of clutter, and professional looking. Bare walls are never a good idea, but nor is overwhelming them with too many pictures. Try using one large picture to create a focal point on each wall. If you do have shelving or displays, make sure they are tidy and well presented. Keep the colours neutral or, if brighter colours support your companies branding, keep these to smaller areas of focus; a feature wall, for example. You can also reflect your corporate colours in the soft furnishings, chair coverings, etc.
It's important not to let the reception appear cluttered, but a low table is essential for holding cups, or for resting a laptop on. This can also be used to display any publicity or promotional material you might want your customers to see. Magazines open at recent press releases or articles on your business are a good way to let customers know of any recent developments or successes.
If you're still struggling to get the right vision for your reception, it might help to imagine you are the customer and think about what you'd like to see. In other words, decide what you want your reception to say about your business, and use that philosophy to guide your decisions when it comes to deciding how it looks. Or you could ask us for advice, we're always happy to give you the benefit of our expertise and we won't charge for it either.
Your reception could quite possibly be the most important area in your offices, so it's worthwhile investing some time (and money) in getting the look exactly right. Getting it wrong could make the difference between a one-time-only visitor, and one who returns again and again.