Ergonomic Seating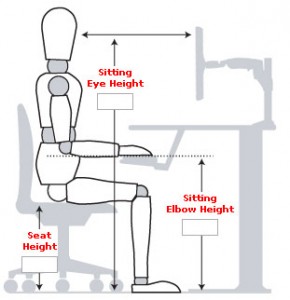 Millions of working days are lost each year through staff absence due to back pain and other musculo-skeletal disorders and conditions. This can translate into hundreds of thousands of pounds worth of revenue being sacrificed through reduced productivity and sick leave.More worryingly, there are an increasing number of litigation cases involving employee absences caused by pain and discomfort resulting from poor work posture. At R & A Office Environments, we take a proactive approach to this, firmly believing that prevention is better than cure.If your office chair and desk is affecting your health, it's time to think ergonomically. Our aim is to ensure every employee has access to a better working environment. Given the amount of time that employees spend at their computer or workstation, it is vital that they are sitting comfortably and, more importantly, correctly.The chairs we specify have been designed with your well-being in mind and they look good as well as do you good. We're firm believers that comfort and good ergonomics go hand in hand with great design and style and we're confident that our products are at the cutting edge of ergonomic innovation. We have a standard range of chairs for almost every situation, but should you require a specific make or model of chair that we do not feature on our website, please give us a call; we will do our utmost to supply exactly the right chair for you.We supply great chairs, desks and equipment, all specifically tailored to ensure your employees are sitting comfortably, but our service doesn't stop there. There's little point in investing in good ergonomic equipment if it's not set up correctly, so we also provide specialist assessments to ensure that people get the products they need for a comfortable and healthy working life.

We offer specialist advice to employers to effectively reduce absence, improve productivity and morale. We can also work closely with you to define a process by which compliance with Health and Safety legislation is transparent to staff and management, ensuring that problems do not arise in the future. Key to this process is the undertaking of independent workplace assessments and, additionally, specifically addressing the concerns of individuals who are experiencing pain and discomfort whilst working.

Our services include;

• Workplace DSE assessments

• Seating assessments for individuals with complex needs

• Specialist seating and ergonomic advice, including bespoke office chair design to meet specific requirements

Our comprehensive, bespoke service includes consultation, assessments, reports, recommendations, training and, finally, expert assistance with specification of the correct ergonomic and posture related products for the needs of you and your staff. Our fully-trained experts will ensure that chairs, desks and so on are properly adjusted for the comfort and convenience of the individual user.

We are a Manchester based company but deliver our services nationwide. If you think we can help you, please give us a call for a free initial consultation.