As you probably know
, we're big fans of recycling here at R & A Office Environments. For years now, we've been spreading the Green message and we have seen a steady increase in sales of used furniture. As everyone becomes increasingly aware of our impact on the environment, more and more of our customers realise that, not only are they saving money by buying used items, but they are doing their bit for the environment too. When someone no longer has a use for a completely good piece of furniture, there is no reason that it should wind up in a landfill so we really like the idea of putting such items to good use
However, we're also aware that there's a whole host of people out there who haven't yet latched onto the idea of buying used rather than new.
So, if you still need convincing, here's a quick recap on why we all need to do our bit;
Recycling Saves Trees
Although a large proportion of new furniture is made from wood from "sustainable" forests, world-wide de-forestation is still one of the biggest environmental concerns. Now we haven't exactly worked out how many trees is takes to make a desk, but we do know that re-using existing office furniture can only serve to reduce deforestation and that's a good enough reason for us.
Recycling reduces the use of toxic chemicals
When furniture is manufactured, there are usually a number of potentially toxic chemicals used in the process. Purchasing used furniture avoids the need for this and therefore reduces the impact of such toxins on the environment, particularly on the water supply.
Recycling reduces your Carbon Footprint
Buying recycled office furniture saves energy by removing the need for manufacture of new goods. This is turn reduces the amount of unhealthy greenhouse gas emissions. Furthermore, if furniture is being re-used, then less is sent for incineration and so helps reduce the amount of pollutants being released into the atmosphere. Additionally, a surprising amount of water is used in the manufacture of furniture and anything we should be doing everything we can to conserve this scarce resource.
Recycling Reduces Landfill
We live in a beautiful world, but it won't stay that way if we constantly create new landscapes by committing more products to landfill. Every piece of office furniture we're able to reuse means there's less to be disposed of. This can only be a good thing.
We have a wide range of used furniture in our warehouse and it offers excellent value if you are a new business starting up, or an established business moving offices or expanding your workforce. The furniture we sell has typically only been used for a fraction of its intended life span and we ensure every item has been cleaned and tested for quality and safety.
So if you were thinking of buying new office furniture, perhaps think again and go for used. You'll be investing in the planet at the same time and if you buy from us, we can promise you'll be saving money without costing the earth.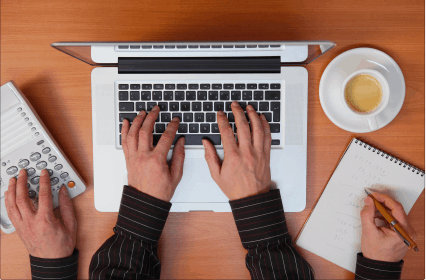 We pride ourselves in taking time to work with our clients to make sure they get exactly what they're looking for when it comes to office furniture. It's not always an easy process, but we wouldn't be doing our job properly if we ended up selling something that wasn't precisely what was needed. However, there's far more to creating the ideal office space than getting the right furniture.
For example: Can being warmer make you work more effectively? What about the dim lighting that causes you to squint? Bad office design doesn't just impact your mood, it can also impact productivity. At the end of the day, it's important to make the office space as comfortable as possible since research has shown that your work environment has an impact on how you function.
Here's our top tips for getting it right.
Temperature
It's difficult to keep everyone happy, but you have to assume that if people are wearing coats and scarves when it's in the eighties that your air conditioning is working too hard.
Similarly, if it's the middle of winter and everyone's walking round in shorts, you have to assume the heating needs turning down.
Research by Cornell University suggests that the ideal temperature for working is between 68 and 77 degrees; output increased by 150% in offices who started working between these extremes. Plus, making the effort to maintain a constant temperature all year round is more fuel-efficient and should help you keep utilities costs down.
Lighting
When it comes to general overheads, the cost of lighting your company premises can often be a significant part of your expenditure.
If the lights aren't bright enough, this can lead to eye-strain and fatigue, which ultimately causes staff to make more mistakes and be less productive. A leading lighting company has done research showing that raising light levels in an office increased productivity 8% and decreased accidents by 52%.
Although most offices now have plenty of windows, remember that a certain amount of natural light is also critical, particularly when it comes to distinguishing colours – particularly important is you work in a creative industry. Research has also shown that those who worked in office with a greater amount of natural light were more alert and less likely to complain of fatigue.
Not everyone can sit next to a window however, so try to ensure that desks are placed to prevent too much shadow. If you have areas set aside for relaxing, i.e. breakout areas, it may be worth considering fitting dimmer switches to enable the level of light to be reduced.
Colour
So many offices are bland; the walls are often painted white or grey. Whereas this may be the simplest solution, it can also be very uninspiring. Colour affects mood and productivity and therefore it's important to choose the right colours, depending on the mood you want to create. For example, blue is very calming and green is usually seen as being restful, whereas stronger colours, like red and orange, are stimulating and motivating. It makes sense to bear this in mind when decorating the various different areas of your office.
Space
There is no doubt that office space is expensive and when you're paying for it by the square metre, it's tempting to try and cram as much as possible into the space you have. However, if you want your employees to work effectively, you have to ensure they have enough space to work comfortably, both at their desks and when they're trying to move around the office. Make it too crowded and people may well feel claustrophobic. There's always the health and safety aspect too; you don't want staff constantly, and literally, tripping over each other all day long.
You also need to ensure you provide enough storage space – no-one works effectively surrounded by clutter – and set aside space where you can meet and talk to customers.
When it comes to creating an effective, productive space, buying the right furniture is important, but the effort you put into making sure you get that right will be wasted unless you pay some attention to the space you're going to put it in. Get it right and your investment will be rewarded by a happy and productive workforce.